Service
New for 2023
For your convenience, you can now book your bike in via the following link:
3 Year Complimentary Service Plan Included Free with All New Bikes
Giant bicycles are high quality, technologically advanced machines designed to give the safest and most rewarding rider performance.

Our team at Giant Store Camden are passionate that our customers enjoy their cycling experience on well maintained bikes. We believe that bicycles should be regularly maintained and serviced to ensure safety and prevent premature component wear.

We have taken the decision to supply a 3 Year Complimentary Service Plan with all new sold bicycles. Please see table below for schedule:
3 Year Service Plan          Worth £299
6 Month from purchase      Basic Bike Service
12 Month from purchase    Basic Bike Service
18 Month from purchase    Basic Bike Service
24 Month from purchase    Basic Bike Service
30 Month from purchase    Basic Bike Service
36 Month from purchase    Basic Bike Service
If worn parts need replacing additional labour will be charged at our normal rates. Please see price menu for details.
Terms & conditions apply, please enquire in store or contact us for more information.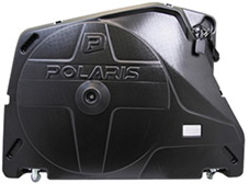 We Hire Bike Boxes For Travel
If you're travelling with your bike, a hard box is essential kit. Save the expense of purchasing your own with Giant Camden's Bike Box Hire Service. We use Polaris Pod hard cases that provide excellent protection for road, mountain and hybrid bikes of various sizes. Contact us for more info and to book!

1 week hire returning within 7 days of collection e.g. collect Sunday return Saturday £70
2 weeks hire returning within 14 days of collection £125
1 day hire (minimum 3 days e.g. collect Friday return Sunday) per day £12
Please note hire period includes day of collection and return days.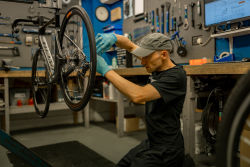 We service all bike brands
Looking for a bike shop that does servicing in Kentish Town or Camden Town? Look no further - Giant Store Camden offers bike servicing in Camden, Central London - covering all makes and models in a modern, well equipped workshop with expert mechanics.
We offer an extensive range of services - from an essential bike service, fitting new parts and accessories to suspension fork and drivetrain servicing and even full bike builds - we're happy to quote for any job.
Contact us to find out more.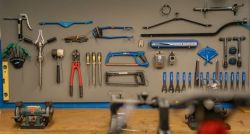 What we do
We undertake repair work, bike builds and pre-race/event fettling on all makes and styles of bikes, including Bromptons and hub gear bikes.
We offer a limited 'while you wait' repair service subject to availability.
Please call in for further advice. You can also call us on 0207 4853983 and a member of the team will be able to help. 
Prices
Basic Bike Service, 1 hour
Adjust gears, brakes, wheels, tyres and torque all bolts
Full Bike Service, 2 hours
Full Service with wheel truing, bike cleaning and lubrication
Bike Rebuild, 3 hours
Complete stripdown to the frame and full rebuild
Custom Bike Rebuild, 4 hours
Brake Pad Replacement (labour)
Replacement of the brake pads with new
Install Full Length Mudguards (labour)
Disc Brake Service
Includes: clean and bleed, per brake
Shimano Di2 Service
includes diagnostics, charging and firmware update
Inner-tube Replacement (labour)
Includes responsible disposal fee
Bar Tape Fitting (labour)
Hourly Labour Rates
Fit parts supplied in store £60 per hour
Fit parts supplied by customer £90 per hour
Minimum labour charge £10
Please note:
*Prices are for labour only and do not include parts unless indicated. Major parts will be quoted before work is undertaken.
* We service all makes, models and brands.
* 3 Year Service Plan available with all new bike purchases. Terms and Conditions attached.

*All prices inclusive of VAT


Please ask any member of staff for more details on the above or other jobs.