PowerFit
Giant PowerFit powered by Wattbike is a unique bike fitting system - using the scientific accuracy, authentic ride feel and custom technique of Wattbike to ensure your bike-fit is optimised for power, speed, comfort and control. The correct size bike is essential for safety and comfort, but a professional bike-fit takes this to a whole new level - improving comfort, reducing the risk of injury and increasing performance. PowerFit is the only bike-fit system that uses WattBike's proprietary Polar View technology - with accurate power measurement of the entire pedal stroke of both your left and right leg, to improve pedalling technique, balance, efficiency and power through the perfect fit.  Get the PowerFit difference in store today - contact us now to book a PowerFit session. A PowerFit session costs £180.
Brit Tate Sports Therapy
In recognition of the physical demands made by our participation in cycling and multi-sport activities, we are pleased to announce that we are now able to add Sports Therapy to our range of support services. Sport therapist Brit Tate, herself an accomplished elite cyclist and triathlete understands these physical demands first hand. Through her specialist therapeutic practice Brit will work with clients to help resolve physical issues enabling and enhancing their performance in and enjoyment of their sport. 
We look to integrate the Powerfit service with the Sports Therapy Service now available at Giant Camden. Many people come to have a bike fit to ease pain or discomfort when riding or to improve performance. Sports Therapy can work hand in hand with the Powerfit service to achieve both of these outcomes. We will be able to work on any issues that are flagged up in the Powerfit to achieve the best results possible on your bike.
If you are interested in making the next step in your sporting performance book an appointment through the shop or directly by email or phone.
My email: sport-therapy@giant-camden.co.uk
Giant Store phone number: 020 7485 4488
mobile number: 07775923966
Price: £60 for 50 minutes including full consultation on first visit.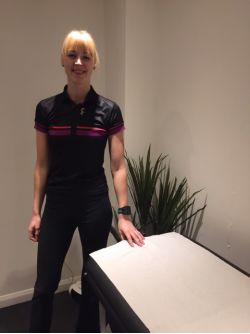 Nutritionist Viktoria Borsi
Nutritionist Viktoria Borsi is now offering consultations at Giant Camden
 Are you training for your first event? Or are you a more experienced cyclist / triathlete? I offer personalised nutrition services for all levels, where we look at your current lifestyle, diet and any potential health issues you might have. Once we set your goals together and had a face-to-face consultation, I will send you a personalised nutrition plan, so you can:
perform better
recover quicker
do more training.
During the consultation I will also check your body composition, which can be used as a base for your plan.
Depending on your needs we can determine the frequency of our meetings. 
Viktoria is already working with Giant Camden clients including Hampstead Triathlete Club Coach and multi Ironman Daniel Bingham:
"I have been working with Viktoria since January. Her holistic approach is excellent and the advice she has given me and changes she has made to my daily diet have had a very positive impact on my training and racing performances. The changes have also improved my recovery after sessions and from day to day and from week to week. I feel so much better for following Viktoria's plan and I will continue to do so!"
For more details please get in touch:
Viktória Borsi
T: 07469802924
Performance Train Cycle Coaching with Gareth Pymm
We have teamed up with performance cycling coach Gareth Pymm to launch a high quality, affordable performance coaching service costing £75 per month based on a 3 month commitment.
Structured coached training is the most effective method of increasing your cycling performance. This service is aimed at cyclists and multisport athletes. Whatever your current cycling ability, Gareth will be able to enable you to take your cycling performance to the next level.
Triathletes also stand to gain most from improving their cycling strength as this discipline accounts for over half the total racing time in most events. Getting stronger on the bike split will have the added advantage of leaving you in better shape for the run.
Gareth has competed in many cycling disciplines, triathlons and has time trialled at national championship level and competed in the world masters TT championships in Albi, France in 2017. Gareth is also a Giant UK team rider for Team Bottrill
Our link with coach Gareth Pymm began 2 Years ago when Liv Ambassador Amy Pritchard began her coaching journey in preparation for the world sprint triathlon championships in Cozumel, Mexico where she came 5th in her age group with a super quick bike leg. Another year of Gareth's coaching  led to age group world championship victories in sprint triathlon and aquabike (swim bike) plus multiple time trials across a variety of distances.
Performance Train cycle coaching includes the following:
Structured - you will receive a 4 week block of training planned based on power or heart rate zones
Personalised - Training plans are fully personalised based specifically on your goals strengths and weaknesses
Monitoring - the coaching process is monitored using Training Peaks
Review – you will receive a weekly review and feedback from Gareth
Availability – Gareth is available for queries by email
Flexibility – Should your needs change e.g. as a result of work or injury your plan can be changed at 24 hours' notice
Please contact Nick at the store if you would like to discuss coaching with Gareth.