Liv Camden Ride Out: Shenley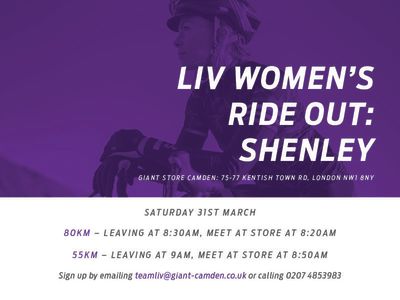 When
31 March
Where
Giant Store Camden: 8:30am
We are pleased to announce that our next women only Liv Ride Out from the Giant Camden Store is on Saturday March 31st meeting at 8.30am, and we'll be riding up to Shenley to the Café in the Orchard, Radlett Lane, Shenley.
We'll have 2 routes/distances on offer:
80km
For experienced riders, this ride will have an average pace of approximately 23km/hr. The ride is broken up into a 55km out route and 25km return route. Please note:
You will be leaving at 8.30am, please arrive at the shop at 8.20am. 
The rest stop will be at The Cafe in the Orchard, Radlett Ln, Shenley. This group will need to self-navigate either by having downloaded the route or by carrying the map with you (my friend Fred still carries a map in his jersey pocket) and will require a volunteer leader for it to go ahead. The estimated arrival time at the cafe will be about 11-11.15am. Here are the routes;
Shop to Shenley 55km https://www.strava.com/routes/11091234
Shenley to Shop 24km https://www.strava.com/routes/11109316

55km
30km there, 25km back.
This ride will be led by Amy who will stay with the back-markers but as there'll be riders of varying abilities, we will need volunteer leaders, also with the ride route to make it work for everyone. We will leave the store at 9am to try and arrive at the cafe with the 80km group.
Routes are here;
Giant to Shenley 31km https://www.strava.com/routes/5400960
Shenley to Shop 24km https://www.strava.com/routes/11109316

If you have a GPS device, we advise that you download the route in advance. Please note that in the event of dangerous weather conditions we may alter the routes and distances accordingly. In the event of extreme weather postponement may be an unfortunate necessity. We will do our best to notify signed up riders by email the night before.
If you would like to find out more about our Giant Camden women's cycling club please follow this link
Please sign up by emailing teamliv@giant-camden.co.uk or by calling the store at 0207 4853983.
See you at the store on Saturday March 31st1
Amy, Giant Camden Liv Ambassador